The Team at Swenson Granite spoke to Mike Corsie, Founder of Terrapin Landscapes in Kennebunkport, Maine.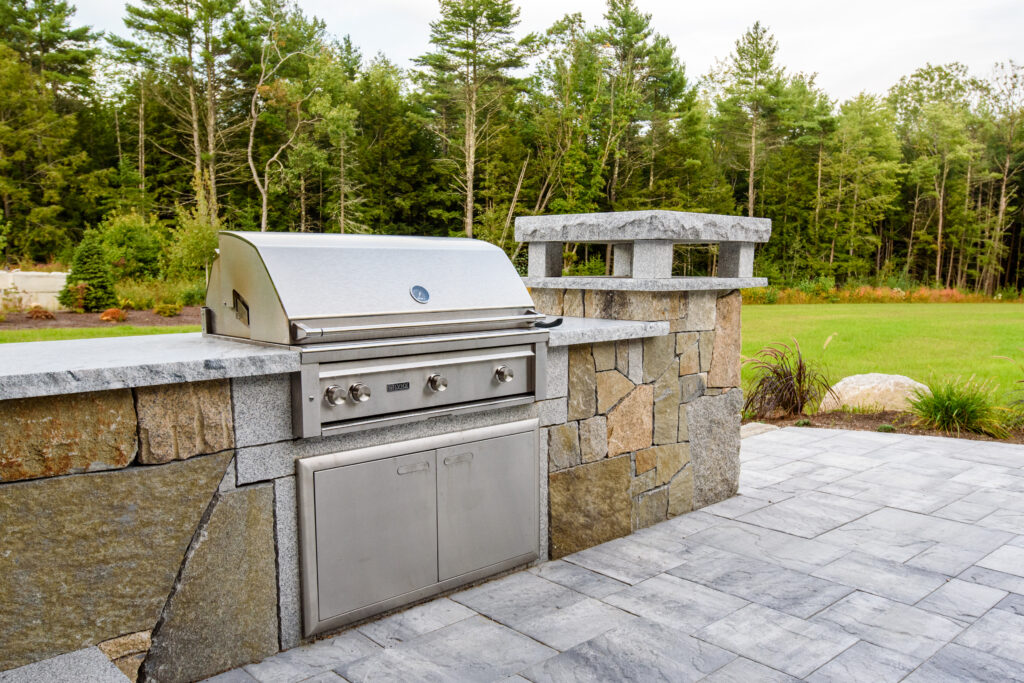 Whether grilling by the pool at a bustling family barbecue or savoring a quick meal on the patio on a quiet evening, the simple joy of eating outside is a pleasure in and of itself. However, cooking outdoors with all the amenities of a fully-furnished kitchen can transform outdoor dining into an experience that will delight recreational cooks and professional chefs alike.
From granite countertops to natural stone veneer, your local Swenson Granite Works' store can provide you with a range of products to create a timeless outdoor kitchen that makes a bold statement of unmatched durability.
This year's outdoor kitchen trends offer exciting ways to create an inspiring culinary space in your own backyard.
Year-Round Livability
The backyard has always been a popular hangout spot for warmer days, but today's homeowners are looking for ways to make their outdoor kitchens a more livable extension of the indoor living area.
Mike Corsie, Founder of Terrapin Landscapes in Kennebunkport, Maine, names livability as a major trend in recent years.
"Homeowners are using their outdoor spaces more often, and they want them to be more comfortable," says Corsie. "Most of these larger outdoor living spaces include a kitchen and dining area."
Lighting and heating features can make outdoor kitchens usable on cooler and darker nights as well, meaning backyard enjoyment is no longer limited to weekends and summers. Investing in high-quality, long-lasting furniture and materials is another great way to make your backyard space more livable year-round.
Functionality
According to Corsie, functionality is a growing trend as outdoor kitchens become more popular. "People are more interested in cooking outside, and it can't just look pretty, it has to be a good blend of fashion and function."
As most experienced outdoor entertainers would agree, one of the biggest hassles of dining al fresco is transporting food and dinnerware back and forth from the indoor kitchen to the outdoor dining area. However, a fully functional outdoor kitchen—complete with everything from a refrigerator and storage to a recycling and trash area—can transform outdoor meals from impractical occasions to regular weeknight routines.
Natural Stone Features
Durability is always an important factor in hardscape design, but it is especially critical in outdoor kitchens due to the heavy wear and tear they endure.
"I advise homeowners to always use the highest quality materials possible to ensure that (their outdoor kitchen) is going to withstand the elements," says Corsie. "I prefer to work with natural stone, especially locally-found materials (in order to) design something that fits with the natural landscape."
He recommends natural stone as one of the best materials to use in an outdoor kitchen. Not only is natural stone an excellent way to complement the native landscape, it is also virtually maintenance-free. These hardwearing properties make it ideal for countertops, veneer, patio pavers and walkways in and around a backyard cooking space.
For countertops, granite and bluestone—which naturally prevent bacteria growth—are outstanding options and will provide unbeatable utility in an outdoor kitchen. "Granite is always the most popular because everyone knows of granite as being strong and durable, especially in Maine where it's locally available," says Corsie.
Natural stone veneer is an excellent way to visually frame your outdoor appliances, and it will withstand the elements much better than wood or tile. Swenson's natural stone veneer comes in granite, limestone, fieldstone and quartzite, and can be installed in a variety of shapes from modular square and rectangular patterns to more organic round or mosaic arrangements.
Built-in Seating
Homeowners with scenic backyards often prefer materials that preserve the natural aesthetic of their space. However, when it comes to functional elements like furniture and seating areas, it can be difficult to find pieces that feel natural in a backyard landscape. For these reasons, built-in seating has become a popular option.
Built-in seating has been trending for years in outdoor living rooms, and now it's making its way into outdoor kitchens. A seat wall will save space and complement natural stone veneer or patio pavers, all while accommodating more guests.
Built-in seating is also an excellent option around a fire feature, like an outdoor fireplace or fire pit. Corsie often incorporates a built-in seating wall on one side of a fire pit with chairs placed across.
Stainless Steel Cabinets
A fully functional outdoor kitchen will need storage space for dinnerware, utensils, and other accessories. Since wood cabinets can be problematic for outdoor storage, stainless steel cabinets are growing in popularity due to their weather and insect-resistant properties. They are also easy to clean, visually appealing, and easily customizable.
"You can choose multiple door-and-drawer combinations, sink units, pullout trash bins, and lockable storage (as part of the cabinets)", explains DIY Network.
Many homeowners like the way stainless steel cabinets complement both outdoor grills and natural stone elements simultaneously. However, if you prefer the appearance of natural wood, stainless steel cabinets can be coated with a realistic wood finish.
Versatile Grills
Grills aren't just for making burgers and hotdogs anymore. Homeowners are now looking for flexibility in their outdoor grill stations, seeking out grills that are designed to prepare a larger variety of foods. Hybrid and Kamado-style grills are two great options for outdoor cooks looking to expand their culinary capabilities.
In terms of popularity, built-in models have significantly surpassed stand-alone barbecues in luxury outdoor kitchens within the past several years. "These days at least 75% of sales of high-end grill companies are generated by built-in models, versus cart versions," says Kalamazoo Gourmet. With hundreds of premium built-in models available, the possibilities for customization are nearly endless.
Hybrid grills, which easily switch between charcoal and gas, are a popular option for year-round grilling. They combine the convenience of a gas grill with the delicious smoky flavor that only a charcoal grill can provide.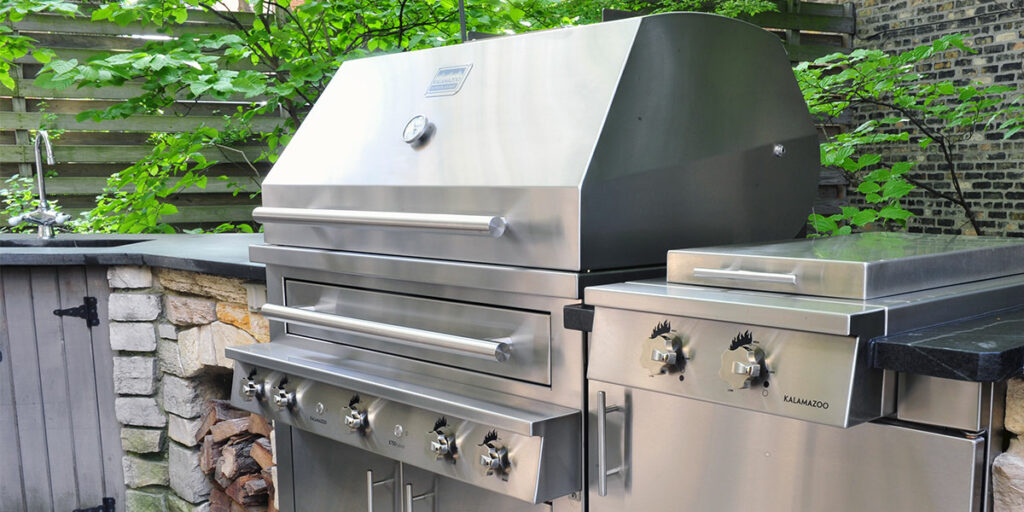 This Kalamazoo Hybrid Fire Grill even offers wood grilling in addition to charcoal and gas. A drawer below the barbecue can either be filled with wood or charcoal, or left completely empty for gas-only grilling.
Another popular option for outdoor grilling is the highly versatile Kamado-style grill, perfect for cooking everything from a slow-roasted chicken to baked bread in the comfort of your backyard. Its wide temperature range of 225° to 750°F makes it a convenient, all-in-one option for grilling, baking, roasting, and slow smoking.
Not only does a Kamado grill require less charcoal than a conventional grill, but it also provides even heat distribution to cook meats thoroughly without removing moisture. The Spruce Eats recommends the Kamado Joe Classic II as the best overall grill in its category.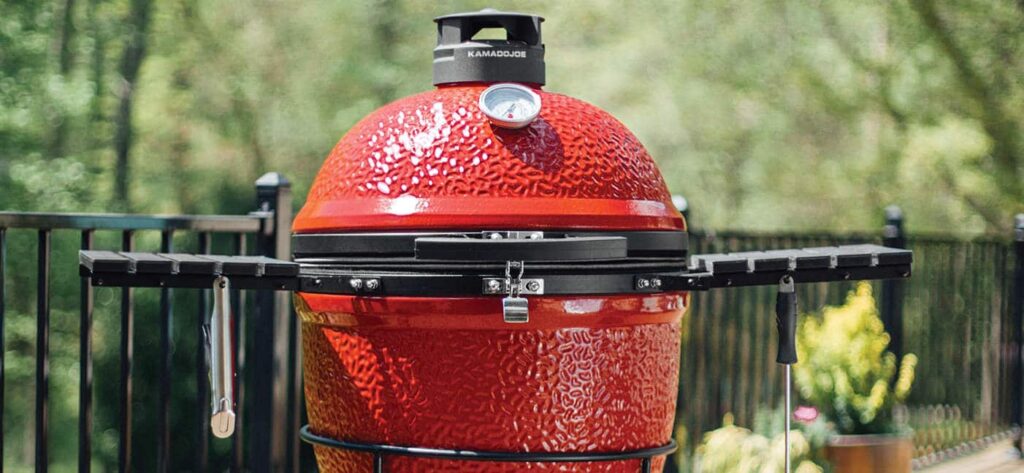 Grill features are also trending this year. Side burners are great for making sauces or boiling water, and some grills even come equipped with a motorized rotisserie.
Backyard Pizza Oven
A custom pizza oven is a perfect addition for those who want to bring a taste of Italy to their backyard kitchens. Although it comes at a higher price point and requires more installation time than a standard grill, this exciting backyard feature is well worth the investment.
For those who want to create an artisan pizza kitchen in their own backyard, DIY Network recommends several stainless steel and wood fired options.
Overhead Structure
Overhead structures provide shelter from the sun and heat during the hot summer months. They can be made of natural or manmade elements, or a combination of the two, and are easily customizable to suit any backyard.
Patio covers, which provide ample shade in any weather, are often designed as an extension of the house with a solid roof. They are particularly beneficial in areas with long, scorching summers because they offer complete full-shade coverage.
Pergolas, on the other hand, are a great partial-shade alternative to patio covers. "Pergolas provide a little bit of shelter and shade without completely obstructing the view and experience of being outside," says Corsie. They can either be decorated with vines or other plants or installed with retractable canopies for particularly hot days.
Planting is another great option for providing shade that can double as protection from the sun and a screen for additional privacy. Homeowners can choose from a wide range of trees and shrubs that suit their local climate and surrounding scenery.
Clever Accessories
An outdoor kitchen wouldn't be complete without handy and versatile accessories to provide a finishing touch. This year's top trending favorites are clever gadgets that simplify cookouts of all kinds.
This story is being posted with permission from Swenson Granite.